Measurement tips for the perfect fit:
Get measured before placing an order: We strongly suggest you have your measurements taken first by a professional tailor or measure yourself by following the measure guide below.
Measurement requirements: Make sure you take your measurements barefoot. Do not measure over clothing except undergarments.
Video Measuring Guide:
Click here!
Return/Cancellation Policy for Customized Products: 
Click here!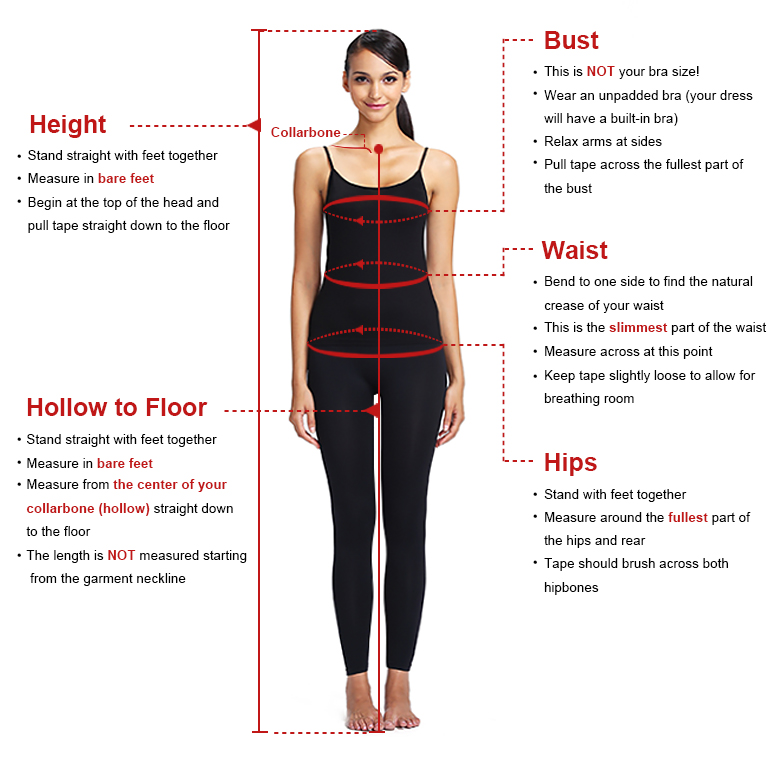 Fine Materials
We carefully select high-quality fabric, threads and embellishments to create every dress. We ensure that every dress' color, sheen and texture are of the highest quality that meet your standards.

Elegant Beading
Many of our dresses feature elaborate embellishment work on the sleeves and/or skirt. Professional dressmakers spend countless hours sewing by hand each piece of the embellishments to create a perfect, elegant and classic design just for you.

Exquisite Embroidery
Embroidering a wedding dress is not only about design, but also about great skill. Our dresses have beautiful and perfectly hand-done embroidery.

Gorgeous Appliqués
When a dress requires extra details, appliqués can give a dress a breathtaking appeal. Our dresses have beautiful appliqués arranged into intricate designs and sewn by hand.

Beautiful Ruching
Hand Ruching is the process where gathering of the fabric is done on a dress to create a beautiful decoration in the bodice and enhancing the silhouette.
Lining & Boning
Our dresses would not be complete without being fully lined and structured to flatter your figure. In addition, a comfortable and soft full net lining is added underneath our beautiful fabrics.